Shea Butter for Smooth and Healthy Skin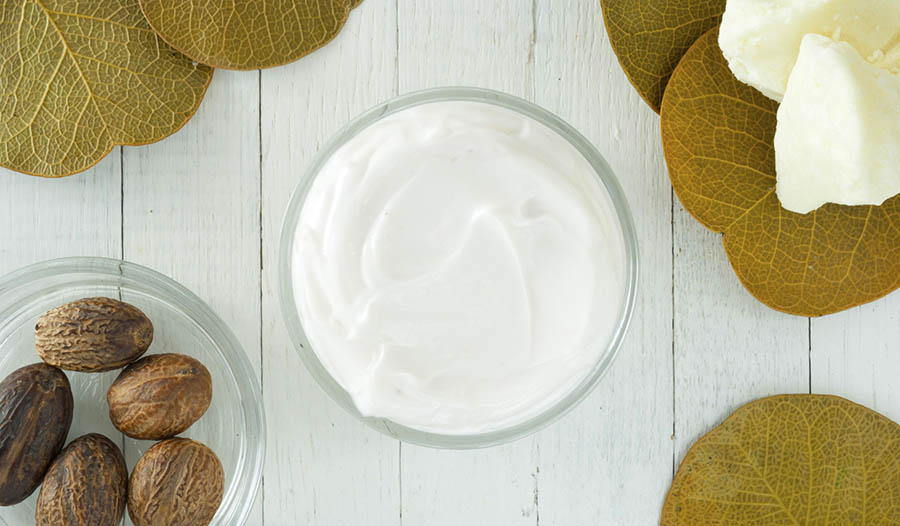 Shea butter offers moisturizing and healing properties that improve the texture and tone for the face and the skin on the hands, feet and other sensitive parts of the body. Unrefined shea butter is hypoallergenic and features important nutrients for the skin.
Shea butter is a thick, buttery solid that has a rich consistency. It comes from the seeds of the fruits of the shea tree. Many studies have found that unrefined shea butter is especially effective at penetrating clean skin. It has up to 60 percent fat, which makes it an ideal moisturizer and emollient. There are many benefits and uses of unrefined shea butter for the face and for the skin of the body.
The Skin Benefits of Shea Butter
Shea butter is rich in vitamins A, E and F. These are fat-soluble vitamins that the body can store and use as it needs them. These vitamins promote the healthy development of collagen, which creates a smooth, supple skin texture. Shea butter offers a sun protection factor of about six and can be used on the skin where sunscreens may cause irritation, such as the eyelids and lips. It promotes the healing of wounds and restores dry, flaky, inflamed or itchy skin and hair.
How and Where to Use Shea Butter
Apply a generous layer of shea butter onto a cut or scrape after cleaning it. Shea butter can be rubbed into a dry scalp for relief from itching. Apply it to dry lips, heels and hands to combat dry skin. Use it for a massage, adding essential oils as needed. Rub it onto a raw nose when sick.